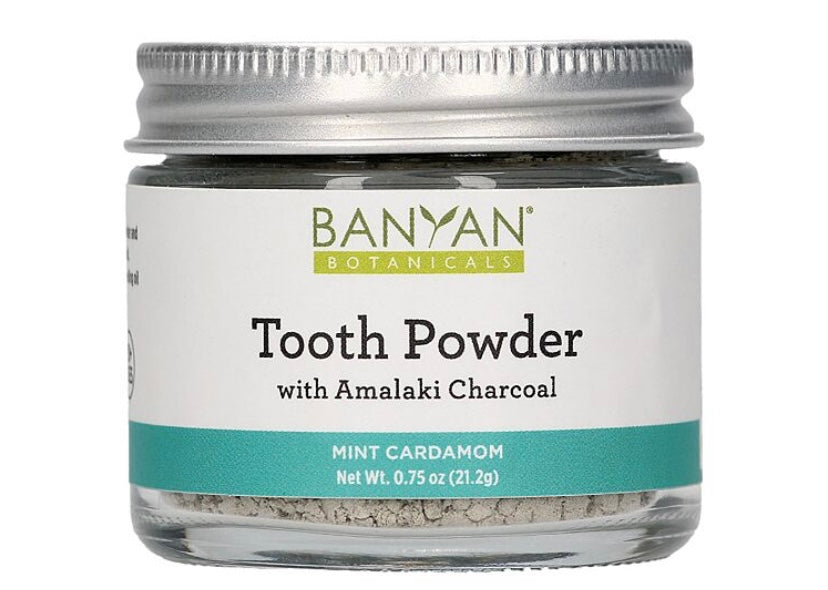 Banyan's Tooth Powder
Regular price
Sale price
$15.99 USD
Unit price
per
This tooth powder combines powerful herbs and minerals that leave your teeth and mouth feeling clean, polished, and refreshed.
Miswak, Is the main ingredient in this tooth powder. A longtime oral health favorite among many cultures, its twigs are still used as a natural oral hygiene tool to this day. Miswak is sourced  from certified organic farms where this tree has grown for over 100 years.
This formula uses a unique activated charcoal made from dried, deseeded amalaki—an herb well-known for its detoxifying and cleansing properties. The charcoal can turn your teeth green and black (but only while you brush!) making
This tooth Powder a hit with both kids and adults alike.
Also included are neem and additional amalaki, which work to cleanse the mouth while calcium carbonate and baking soda gently polish the teeth and licorice gives special attention to the gums.
Directions:
Wet toothbrush. Dip in powder and brush as you normally would. Rinse. Follow with Daily Swish pulling oil for an extra clean mouth.
  Vegan, Non GMO, Gluten free, BPA free, No Dyes or Synthetics used. 


Studies on Miswak:
1 Halawany, Hassan Suliman. "A Review on Miswak (Salvadora Persica) and Its Effect on Various Aspects of Oral Health." The Saudi Dental Journal. Elsevier, April 24, 2012. https://doi.org/10.1016/j.sdentj.2011.12.004.
2 Dahiya, Parveen, Reet Kamal, R P Luthra, Rahul Mishra, and Gaurav Saini. "Miswak: A Periodontist's Perspective." Journal of Ayurveda and Integrative Medicine. Medknow Publications & Media Pvt Ltd, 2012. https://doi.org/10.4103/0975-9476.104431.
Prop 65 warning for California users. 
Return & Refund Policy

Return and Refund policy.

This service is non refundable.
Share