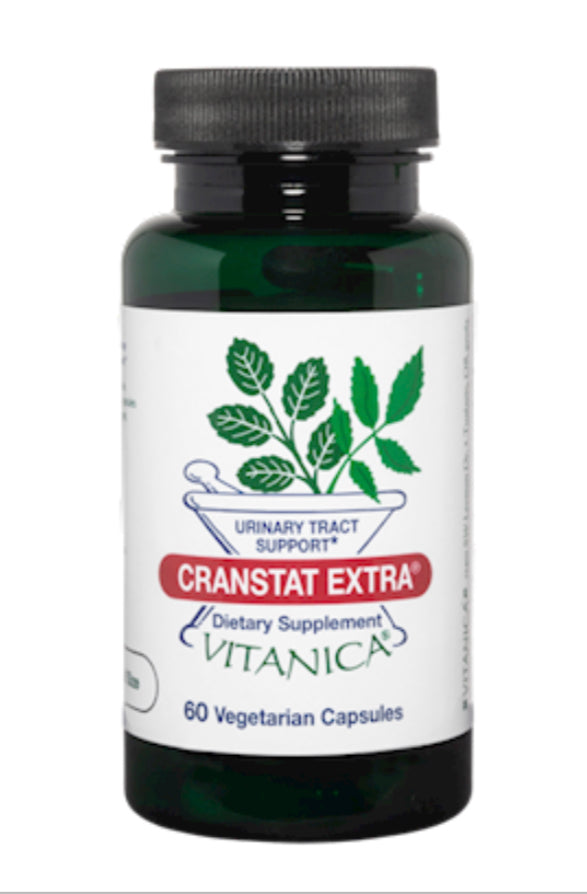 Cranstat Extra
Regular price
Sale price
$20.95 USD
Unit price
per
CranStat Extra
Science and tradition are integrated in this unique urinary tract support formula. All the herbs are supportive in maintaining a healthy urinary tract immune response.*
Featured Ingredients:
Featuring a 25:1 Cranberry extract – this is not your ordinary cranberry extract

Research on Uva ursi and Pipsissewa offer supportive evidence towards these traditionally used herbs in maintaining healthy bladder and urinary tract function*

Buchu leaf offers diuretic and tonic support; while Oregon grape root promotes immune health for these delicate tissues*

Marshmallow root offers soothing comfort to bladder tissue with its highly mucilaginous content*

 
Non GMO

Organic and or wild crafted herbs

Vegan

Also suitable for men
Suggested Use: Maintenance support: 1-2 capsules daily.
Temporary support: 2 capsules every 2 hours for 2 days, then 2 capsules 2-4 times per day for up to 2 weeks.
* These statements have not been evaluated by the FDA. This product is not intended to diagnose, treat, cure or prevent any disease.
Vitanica is a premium line of supplements clinically formulated by Dr. Tori Hudson, a naturopathic physician specializing in women's health for over 34 years.
100% Vegetarian
Created in small batches, free of preservatives,common allergens, binders and fillers. Vitanica products are 100% vegetarian suitable.
Return & Refund Policy

Return and Refund policy.

This service is non refundable.
Share