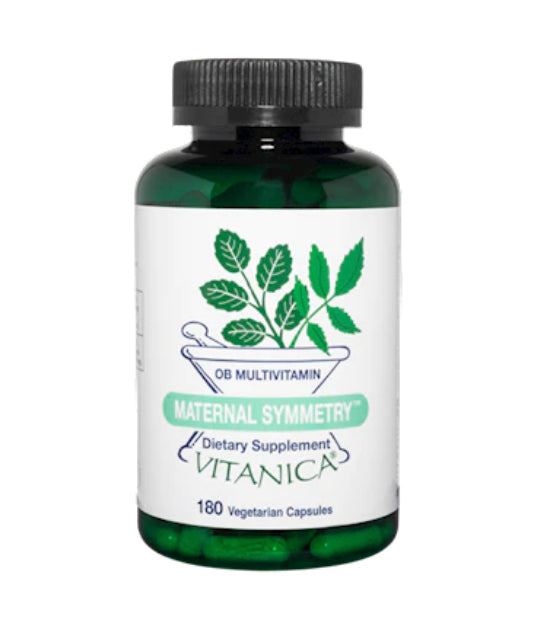 Vitanica Maternal Symmetry
Regular price
Sale price
$46.95 USD
Unit price
per
Maternal Symmetry provides high quality vitamins, minerals and herbs to support before, during and after pregnancy.
Dietary Considerations
Wheat Free 
Dairy/ Milk Free
Vegetarian
Sugar Free
Starch Free
Preservative Free
Vegan
Salt Free
Corn Free
Free of Artificial Colors/Flavors
Lactose Free
Sodium Free
 Ingredients: 
Pro Vitamin A (as natural mixed carotenoids) 3400 IU  
Vitamin C (as calcium ascorbate, buffered) 170 mg  
Vitamin D2 (as ergocalciferol) 130 IU  
Vitamin E (as d-alpha tocopheryl succinate) 130 IU  
Vitamin K (as phylloquinone) 50 mcg  
Thiamin (as vitamin B1, thiamin HCl) 8 mg  
Riboflavin (as vitamin B2, riboflavin-5-phosphate) 533 mcg  
Vitamin B3 (as inositol hexaniacinate) 8 mg  
Vitamin B6 (as pyridoxine HCl) 16 mg  
Folate (as L-5-MTHF, calcium salt) 260 mcg  
Vitamin B12 (as methylcobalamin) 34 mcg  
Biotin 100 mcg  
Pantothenic Acid (Vitamin B5, d-calcium pantothenate) 16 mg  
Calcium (as citrate, di-calcium malate, ascorbate) 170 mg  
Iron (as aspartate, ferrous succinate, ferrous fumarate) 9 mg  
Iodine (from kelp) 50 mcg  
Magnesium (as citrate, di-magnesium malate) 85 mg  
Zinc (as picolinate) 10 mg  
Copper (as gluconate) 500 mcg  
Selenium (as L-selenomethionine) 22 mcg  
Manganese (as citrate) 1700 mcg  
Chromium (as picolinate) 50 mcg  
Boron (as AAC) 1 mg  
Ginger Root ~ Zingiber officinale 17 mg  
Red Raspberry leaves ~ Rubus idaeus 7 mg  
Nettles leaf ~ Urtica dioica 7 mg  
Partridge berry herb ~ Mitchella repens 7 mg  
Lemon balm leaf ~ Melissa officinalis 7 mg  
Oatstraw aerial parts ~ Avena sativa 4 mg  
Dandelion root ~ Taraxacum officinale 4 mg  
Other ingredients:
vegetarian capsule (cellulose and water)    
Suggested Use: Take two (2) capsules with food three times per day during pregnancy and lactation, or as directed by your physician.
Maternal Symmetry is suitable for vegetarians and vegans.
This product contains no: preservatives, binders, artificial colorings or flavorings, lactose, salt, wheat, milk derivatives, eggs, peanuts, tree nuts, fish or shellfish.
May contain gluten
WARNING: Accidental overdose of iron-containing products is a leading cause of fatal poisoning in children under 6. Keep this product out of reach of children. In case of accidental overdose, call a doctor or poison control center immediately. Maternal Symmetry contains Vitamin K, which interferes with the prescription drugs Coumadin and Warfarin. Do not take Maternal Symmetry if taking either of these drugs. 
Return & Refund Policy

Return and Refund policy.

This service is non refundable.
Share