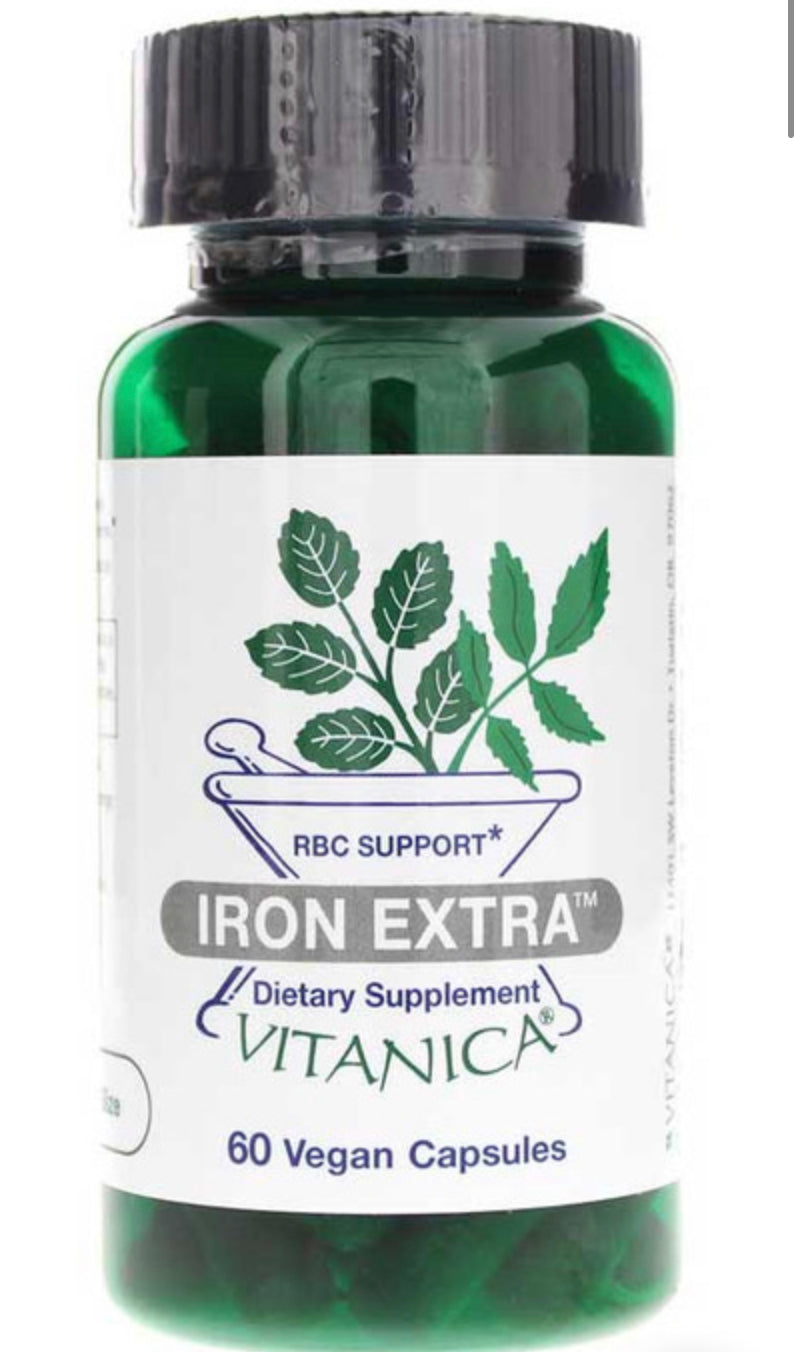 Vitanica Iron Extra
Regular price
Sale price
$22.99 USD
Unit price
per
Holistic red blood cell support featuring more absorbable and gentler forms of iron as well as supportive herbs and vitamins.
Iron is essential to the human body because it plays a pivotal role in transporting oxygen' regulating cell growth' and forming parts of important enzymes and proteins. If you're not getting enough iron your cells won't receive the oxygen they need' which can result in fatigue' concentrations problems' and a reduced immune system.
Ingredients:

Elemental Iron in each capsule is 25 mg from ferrous aspartate, ferrous succinate and ferrous fumarate ‐ these gentler forms of iron are easier on the stomach and less constipating
Includes Vitamin C to promote enhanced iron absorption
Traditionally used herbs for maintaining iron stores in the blood include: Yellow dock, Dandelion and Nettles; these are mineral rich herbs and they support easier bowel tolerance of the elemental iron
Vitamins B12 and Methylated Folic acid (L‐5‐MTHF) offer a well‐rounded approach to supporting and maintaining healthy red blood cells
Suggested Use: 1 capsule daily, best taken with food; Iron products should be taken under the supervision of a physician. 
Contraindications & Warnings: WARNING: Accidental overdose of iron containing products is a leading cause of fatal poisoning in children under 6.

Keep this product out of reach of children. In case of accidental overdose, call a doctor or poison control center immediately. Monitor blood glucose if using blood sugar lowering agents.
* These statements have not been evaluated by the FDA. This product is not intended to diagnose, treat, cure or prevent any disease.
Return & Refund Policy

Return and Refund policy.

This service is non refundable.
Share